We had a great time once again working with our friends at Habitat for Humanity of Wisconsin River Area. This time, we put a roof on this Habitat home being built in Reedsburg.   We also want to congratulate the McCarthy Family as they get settled into their new home!  
An article was featured in the Baraboo News Republic recently to highlight that the Habitat for Humanity Wisconsin River Area (HFHWRA) celebrated handing the keys over to the 85th house it has built. We are thrilled and honored to partner with GAF and Habitat for Humanity to give back to our community!
Article from: https://www.wiscnews.com/community/baraboonewsrepublic/news/habitat-for-humanity-celebrates-milestone-home-built-for-family-of-5-in-reedsburg/article_55ac4290-9565-5a79-8944-1822cdf419b2.html#tracking-source=home-top-story
Habitat for Humanity celebrates milestone home built for family of 5 in Reedsburg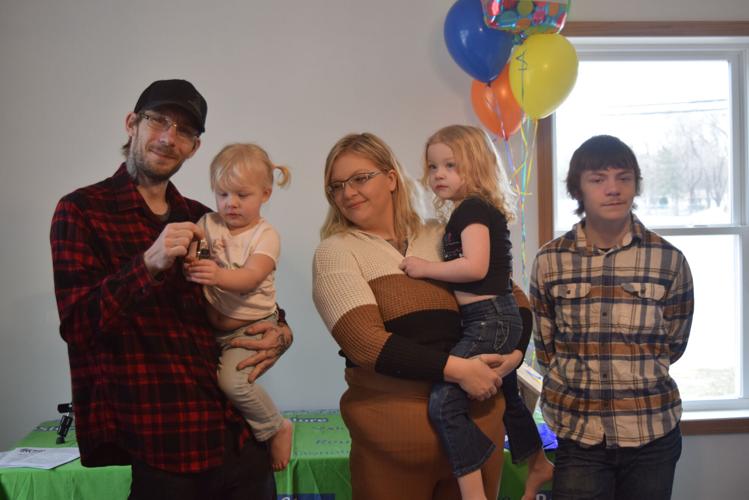 A family of five has a new home in Reedsburg that they helped build thanks to the efforts of a number of local volunteers.
On Saturday morning Habitat for Humanity Wisconsin River Area (HFHWRA) celebrated handing the keys over to the 85th house it has built to a local family on Fourth Street in Reedsburg.
Ground broke on the home last April, HFHWRA executive director Morgan Pfaff said, and was completed with the help of more than 100 volunteers giving more than 2,000 hours of their time.
Jess and Mike McCarthy accepted the keys to their new home in Reedsburg on Saturday morning with a packed house of volunteers and community members. The couple helped with more than 500 hours of volunteering to build their future home.
"This is a very loving family, a very caring family and a very resourceful family," Marti Prorok said of the McCarthys.
Prorok sits on the HFHWRA board and is the family mentor, assisting homeowners with all the things they'll need help with as new homeowners.
"But Jess said right away, 'We're going to do this' and 'It's going to work for us," Mike McCarthy said. "I really just want to thank my wife for pushing me to do this."
He also thanked all of the volunteers who made the house a reality for the McCarthy family.
Both Jess and Mike McCarthy said they were excited to be a part of the community.
"We're especially grateful to Frey Construction, of Prairie du Sac, for so generously donating the roof for this home, allowing us to keep this affordable," Pfaff said.
Pfaff said 104 volunteers helped build the house, working 2,214 hours with the McCarthy's doing 510 hours of work on the house themselves.
This home is the organization's first solar home in Reedsburg, she added. The home, along with all the homes HFHWRA builds, are 45% more efficient than the average new home on the market.
"This will make the home especially energy efficient and the utilities affordable," Pfaff said.
Art Connection is a program in which HFHWRA has a local artist donate a piece of artwork to the family moving into a new home. On Saturday, the McCarthy family received a piece of stained glass artwork donated by local artist John Crahen.
The McCarthys were presented with a number of gifts from community members including quilts, blankets, pillows, a welcome mat and a birdhouse to hang outside the home.
Pfaff said HFHWRA is continuing its mission with another home breaking ground this spring in Wisconsin Dells.
"We're looking for more help with this new home in Wisconsin Dells as we continue our mission," Pfaff said.
"The McCarthy family will be soon be turning this house into a home," HFHWRA board president Robin Crow said. "This place is the next part of their journey as a family."