Wisconsin State Cow Chip Throw
September 2nd & 3rd, 2011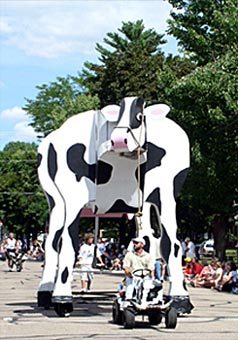 All events are held at
Marion Park, Prairie du Sac, Wisconsin
(located at Grand Avenue and First Street)
Celebrating our 37th Cow Chip Throw –
Cheeseheads & Champion Chips!!
Approximately 40,000 people attend The Wisconsin State Cow Chip Throw each year.
The current Wisconsin Cow Chip Throw state record is 248 feet.
Two stages of free entertainment, arts and crafts fair, 5K & 10K Run and much more!
Friday night and Saturday of Labor Day weekend.